THE LONGEVITY SUITE®
The secret of longevity embodied in the power of Cold and Detox, for ultimate well-being, harmony and external beauty.
The power of cold
on Lake Orta
What is a CryoSauna?
CryoSaunas are a new vision of well-being and beauty.
Reaching temperatures between -85° and -95° C, your body will take a journey of discovering its limits.
A challenge. A bet with yourself. 3 to 5 minutes of pure ecstasy and rejuvenation.
If you are looking for one of the best CryoSauna experiences in Piedmont, you are in the right place.
Our CryoSuite is electrically cooled
You may have already heard of CryoSaunas, CryoSuites or CryoChambers, all synonyms for the same renewing experience.
Ours, unlike the others, is a full-body experience. Your entire body will enjoy the long-term benefits the CryoSuite offers.
To enter, you must protect your most sensitive parts with gloves, socks and a band for your ears. But the real innovation comes from the way it works; the cooling unit of our CryoSuite is completely electric.
This remarkable technology avoids the use of gases such as nitrogen. It makes it possible for your body to be comfortably exposed to low temperatures. As there is no moisture of any kind, you'll experience an intense and pleasant sense of cold.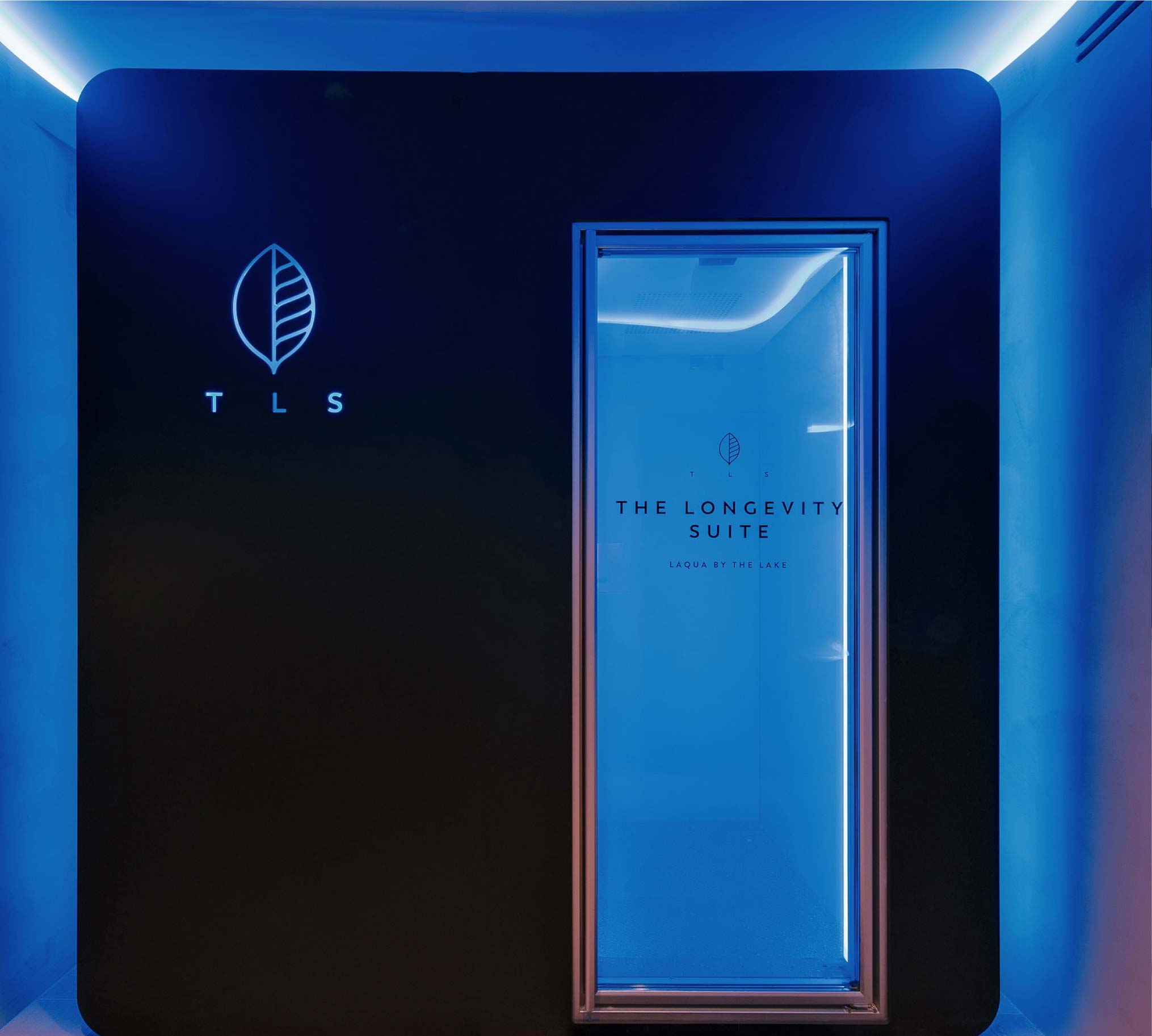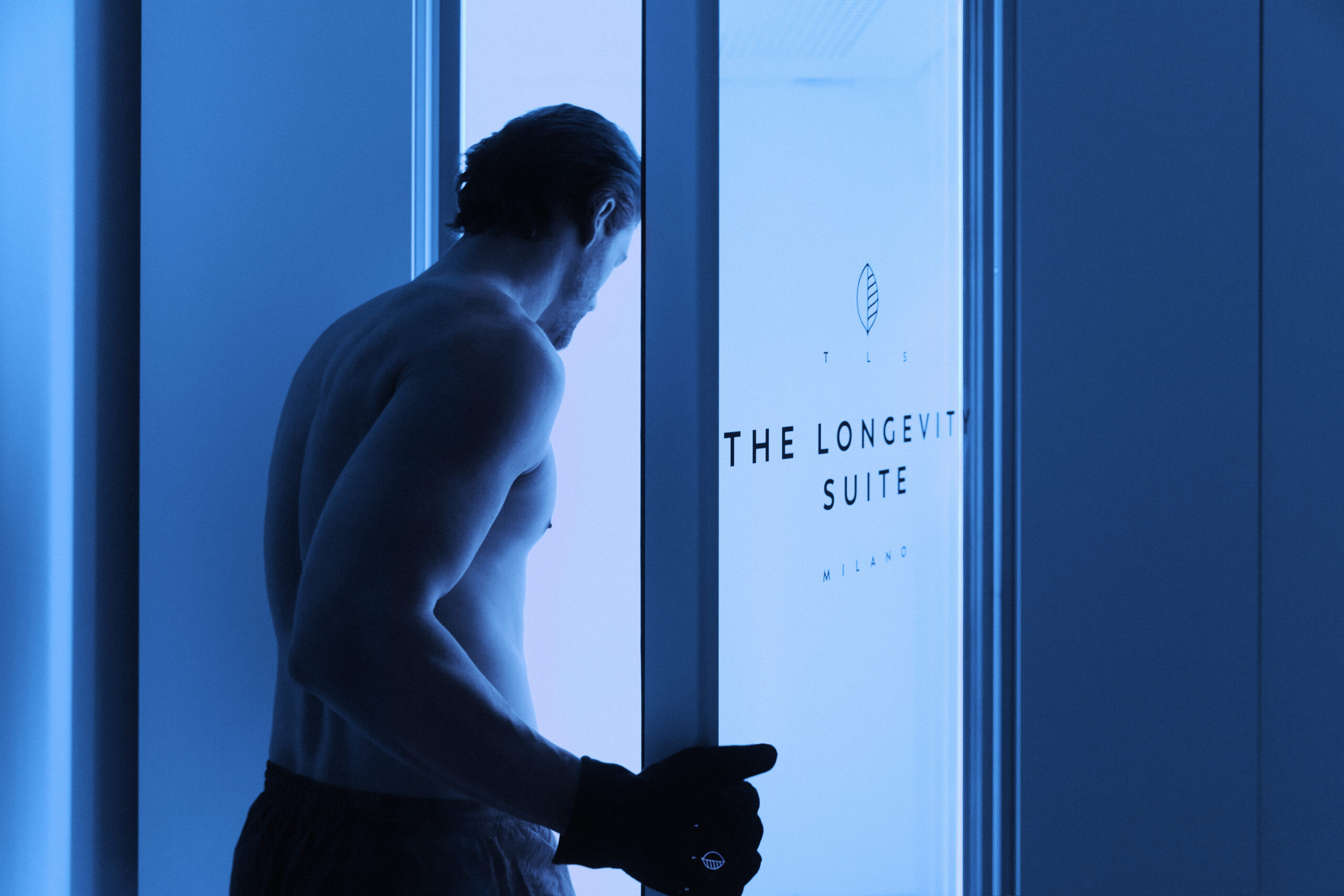 Why will your body and mind thank you?
Just after just one session in the CryoSuite, you'll immediately start feeling revived and energized.
Our innovative technology is a cure-all for your circulation. Legs will feel lighter as well as improving cellulite.
It also has an antioxidant effect as it fights free radicals, while favoring cellular rejuvenation.
Your skin will also thank you, more toned and supple thanks to increased collagen stimulation.
CryoSauna and weight loss, also are closely linked.
Learn about all the benefits of cold exposure:
- Burns around 600 Kcal per session
- Improves skin hydration and elasticity
- Aids sports rehabilitation
- Boosts the immune system
- Fights free radicals
- Lowers stress and anxiety
- Increases energy levels
- Better quality of sleep
- Uplifts your overall mood
- Relieves stress and fatigue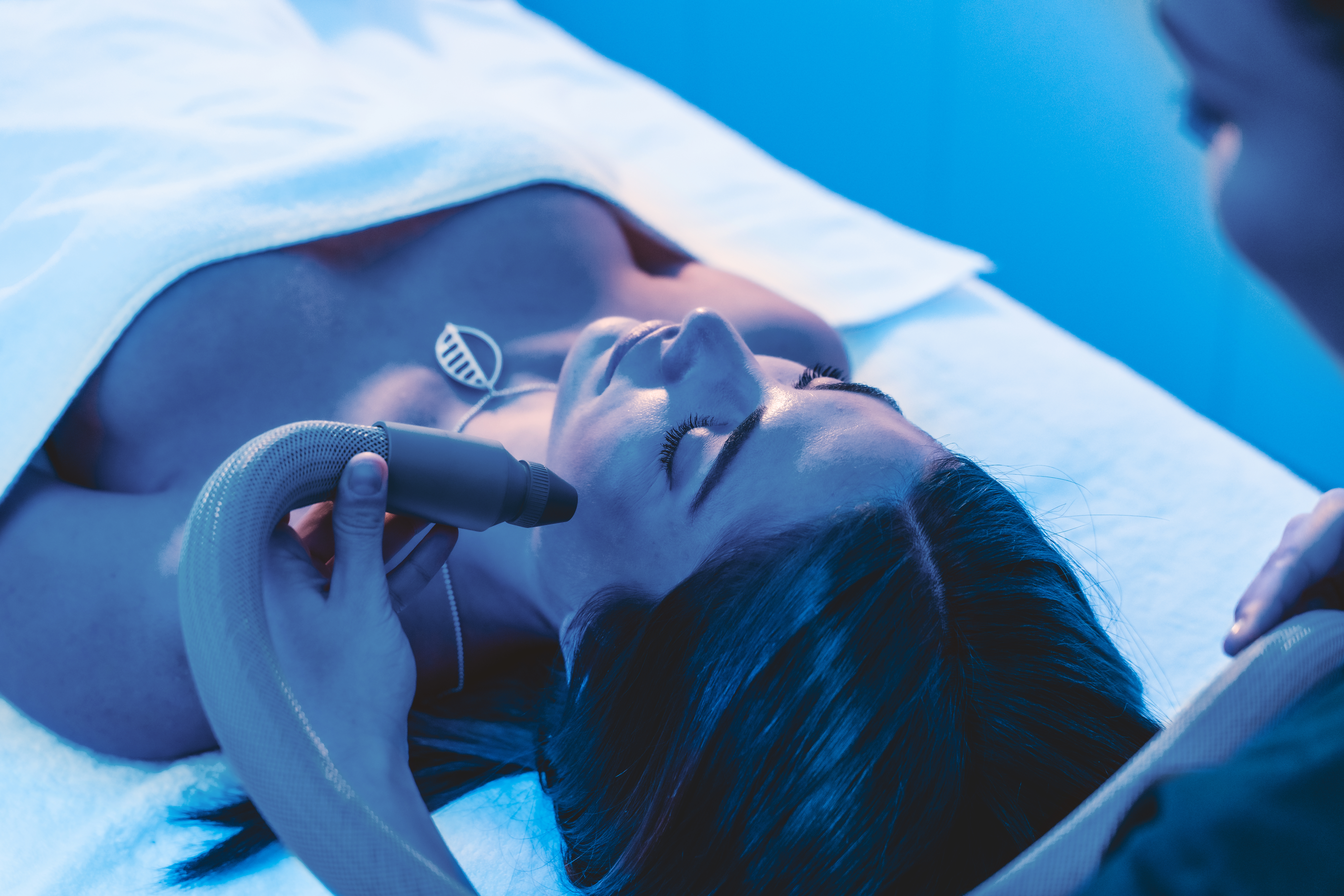 The thought of being able to shape your own body, as if it were a sculpture, is now a reality at our Laqua by the Lake resort. No invasive treatments, just state-of-the-art technology for the benefit of harmony and beauty.
Our SPA on Lake Orta uses only the most specific body sculpting treatments.
You are guaranteed fat-burning and intense muscle toning, while fighting cellulite and reactivating microcirculation.
Longevity HyperTonic is a system using revolutionary electromagnetic technology to stimulate and contract muscles.
This helps to reduce fatty tissue and reshape your body, specifically your tummy, inner thighs and buttocks.
We have 2 different Longevity HyperTonic programs for you, depending on your needs and goals.
One is designed for athletes, more intensive and with immediate results.
The second is gentler, providing slower but more gradual and consistent results.
Two other specific treatments for reshaping your body and toning it are pressotherapy and radiofrequency.
Our SPA on Lake Orta specializes in pressotherapy for your legs. This treatment uses frozen bandages to boost circulation. Radiofrequency, on the other hand, uses electro-magnetic waves to tighten, tone and smooth your skin, while reversing cellulite.
The frontiers of aesthetic beauty know no bounds. We have the perfect formula to awaken your youthful glow by using the power of localized cold.
Local Cryo uses a jet of dry cold air reaching -32°C on specific areas of the body.
It improves microcirculation and oxygenation, as well as stimulating the production of elastin.
Its draining action is excellent for your face.
It'll look relaxed and supple.
Enjoy the Longevity Silk Experience, a smoothing facial treatment including the Japanese "Kobido" beauty ritual.
This facial has a natural lifting effect as it refines your face and helps minimize pores thanks to ultra-pure silky cocoons. And finally, the Luxury Silk Mask will release a waterfall of proteins on your skin, regenerating tissues while fighting wrinkles and signs of aging.
130 LED lights for the health and well-being of your skin. We've designed several treatments using the benefits of LED, bineural musical frequencies for neuronal connections, and aromatherapy.
MIND & BODY DETOX:
a relaxing, stress-reducing treatment designed to help restore one's balance.
ACNE REPAIR:
a cure-all for acne-prone skin; helps control excess sebum and bacterial buildup.
COLLAGEN BOOST:
stimulates elastin and collagen production for more toned, younger-looking facial skin.
SKIN RECOVERY:
ideal for sensitive skin, it provides elasticity and softness while reducing redness.
Allowing yourself to be drawn into the relaxing sensations of a massage may mean regaining a sense of equilibrium with yourself, or sharing a moment of intense connection with the person you love.
All of our holistic massages can be done in pairs as well as alone.
Discover how far your body and mind can go; experience the healing well-being of our treatments.
Deep Infinity Touch and Deep Rejuvenating Detox are two of our guests' personal favorites.
What makes these two massages special is their movement.
Hands work into your body the infinity symbol with a steady, continuous motion.
The infinity oil will leave your body detoxed and relaxed.
The difference between these two experiences lies in the fact that the Deep Rejuvenating Detox, after the Luxury Infinity Care Oil, includes the application of micronized pumice stone powder to your skin, for a relaxing scrub to absorb any toxins.
We haven't forgotten about those who may want a little something more energetic and toning after a workout.
If this is you, you'll love the Deep Tissue, which was designed to work specifically on muscle tension.
Or the Energize, which will recharge your muscles and skin with energy, while helping them restore their natural tone.
Or the Ayurvedic Experience to restore and rebalance one's energy.